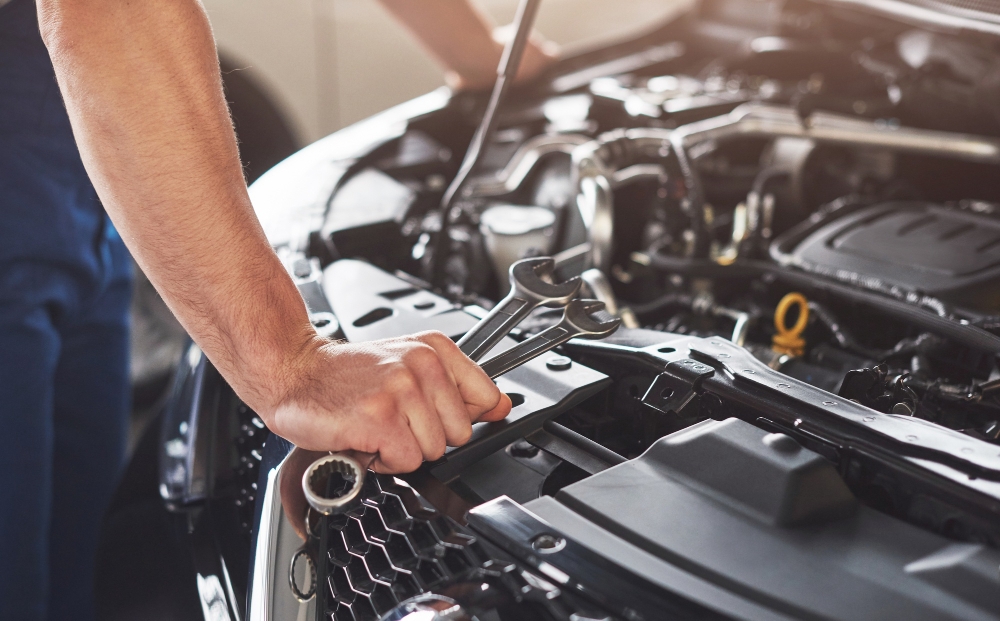 Are Recycled OEM Parts Really Better Than Aftermarket Parts?
By btr-admin2022-01-12
Share :  
If you're looking to buy a replacement auto part for your vehicle, you must have heard the terms OEM parts and aftermarket parts floating around, even if you are not sure what any of these actually mean. If so, you're at the right place as here we'll explain what OEM parts and aftermarket parts are and which one you should opt for while repairing your vehicle.
While a lot of people swear blindly by OEM parts and only use OEM parts in their vehicles, you don't have to be clueless about this anymore. You can understand what it is about OEM parts that make them the preferred auto part rather than aftermarket parts and then make an informed decision for your vehicle. Read on to find out if your vehicle actually needs an OEM part or an aftermarket part, if an OEM part is worth the cost, and also about recycled OEM parts which will help you get your vehicle back in shape without having to spend a small fortune on replacement auto parts.
What Are OEM Used Auto Parts?
OEM parts or Original Equipment Manufacturer parts are tailor-made by the car manufacturer for specific car makes and models. Since these parts are made by the original manufacturer of your vehicle, they're usually the more preferred and reliable auto parts. Since they're made specifically to fit the needs of your vehicle, they'll be perfectly compatible with it and ensure a better lifespan for your vehicle.
However, since OEM parts are more expensive than aftermarket parts, insurance companies hesitate in using them. This is where OEM used auto parts come in. These OEM parts are salvaged from vehicles from salvage yards and junkyards. This means that the used OEM parts are available at a lower cost than brand-new OEM parts and yet they provide similar output to these new auto parts.
Another advantage of these parts is that they go through a series of tests to verify their quality and safety. They are cleaned, maintained, and tested before being offered for sale to assure quality and integrity. This means that buyers can be certain of the quality of these parts when buying them.
Pros & Cons of OEM Used Auto Parts
Pros
Covered by a warranty: Most manufacturers provide a one-year guarantee on their OEM parts. If not a year, almost all manufacturers and dealers will make sure to provide you with a warranty which means that you can go ahead with your purchase without any worry.
Better quality: The OEM part should perform just as well as the original auto part from your vehicle that you're replacing. Since these are better quality, buying an OEM part will give you peace of mind due to its familiarity and performance.
It is easier to choose the auto part you need: If you go to a dealership's parts counter and ask for any part, you'll almost always get one commonly accepted type. This means that you won't have to bother about comparing and contrasting the quality of various brands and costs.
Good quality parts: Dealers who offer OEM used auto parts ensure that the parts are tested and verified to be in excellent condition before selling them. This means that sellers can rest assured that the OEM used auto parts will be high-quality parts that will enhance the longevity of the vehicle.
Cons
Practice caution when buying used parts: Used car parts might save your life, but you must be cautious while purchasing and check thoroughly that the used OEM part that you're buying is in working condition before you buy it. You won't get much use out of a second-hand auto part that doesn't operate or doesn't fit.
What Are Aftermarket Parts?
An aftermarket part is a part for a vehicle that has not been manufactured by the car's manufacturer. Rather, aftermarket parts are mass-produced by a company other than your car manufacturer, to fit the specifications of several vehicles. Over the years, aftermarket components have grown in popularity and recognition as viable replacements for OEM parts.
Often, OEM parts are 60 percent more expensive than similar aftermarket parts. Due to this, aftermarket components are preferred by insurance companies and body shops for repairing automobiles after accidents since they are less expensive.
Aftermarket parts come in two types, namely cosmetic parts and structural parts. Cosmetic parts like the fenders, door skin, and trim can affect how a vehicle operates or appears, but they have no bearing on its safety in an accident. The structural parts on the other hand, such as the hood or the safety cage, are in charge of absorbing the force of a collision. The Certified Automobile Components Association (CAPA) maintains rigorous criteria and rules for aftermarket items, and these parts should be CAPA certified.
But here's the bottom line:
You must remember that although aftermarket parts are normally less expensive than OEM parts, they may not necessarily suit the car perfectly, unlike OEM parts. As a result, buying an OEM component to replace your auto part is recommended because it will fit your car better and increase its performance.
Pros & Cons of Aftermarket Parts
Pros
Cheaper: Aftermarket components are typically more affordable than OEM parts; however, the amount you save varies depending on the manufacturer. Often, aftermarket parts end up compromising on the quality in their quest to be affordable. This means that when buying aftermarket parts, you must really look around for the greatest deal and to get a sense of how much that part typically costs.
Easily available: Any gas station, auto parts store, or neighborhood mechanic will almost certainly have an auto part that matches your vehicle. This means that you will have additional alternatives when it comes to where you may get your automobile serviced.
Increased variety: Aftermarket components are manufactured by hundreds of firms. Some firms specialize in particular parts, while others produce nearly every part you can imagine. More diversity implies more options and a wider pricing range on the auto part that you need to get your vehicle back on the road.
Cons
Might not be covered by a warranty: Sometimes aftermarket components are sold without a warranty to keep them affordable. This means that there are chances that you could get stuck with a faulty replacement auto part.
It might not be the best quality: In an attempt to stay affordable, aftermarket parts are often made using lower-quality materials. This means that the aftermarket parts could be inferior in quality to OEM parts.
Why OEM Used Auto Parts?
A major problem that a lot of people have with OEM parts is the cost factor. OEM parts are generally more expensive than aftermarket parts.
Now here's the deal:
Since OEM parts are manufactured by the original manufacturer of your vehicle, they will be made with standard quality materials which accounts for the higher cost compared to aftermarket parts. However, there is a way for you to afford these OEM parts and get the best for your vehicle. This can be done by buying OEM used auto parts, which have been salvaged from junkyard vehicles.
Additionally, if you're able to find good used auto parts, you will get good quality used auto parts that will work well on your vehicle, and additionally, you won't have to worry about breaking the bank either. Instead, you'll be able to get your car back in shape while increasing the functionality and lifespan of your vehicle by replacing the defective part with OEM used auto parts.
How Recycled Parts Are Environment Friendly
We all recognize the importance of climate change and the necessity to decrease our carbon footprint in order to lead a sustainable life. However, there is a very important way to decrease our carbon footprint for which we do not pay much attention to, which is vehicle recycling and buying used auto parts for your vehicles.
Well, here's the deal:
Vehicle recycling of 165,500 automobiles in Massachusetts reduced CO2 emissions by 2.2 million tonnes, according to research performed by Worcester Polytechnic Institute. This implies that if every one of us makes the switch to utilizing used auto parts instead of new car parts when fixing our vehicles, we may have a significant and beneficial impact on climate change.
According to research, the carbon footprint of a new automobile ranges from six to 35 tonnes of CO2e throughout the production process. Everything from producing auto parts to assembling and shipping them is included in this procedure. The entire process can be extremely harmful to the environment, but it's also something that cannot be avoided entirely in today's society.
The solution is to break down this long process into smaller operations in an attempt to try to manage the carbon footprint created in each of these smaller processes to decrease the overall carbon footprint. To assist in reducing our carbon impact, we may start using used auto parts while fixing our vehicles. The added benefit here is that using recycled auto parts will also be less expensive for us.
Repairing our older vehicles is also better for the environment than purchasing a fresh, allegedly greener vehicle. As a result, the two most essential considerations here are deciding to fix your old car rather than buying a new one and then deciding to utilize used auto parts instead of brand-new auto parts. This can gradually contribute to a zero-waste situation at salvage yards as well as in our daily lives.
Several salvage yards and dealers now have used auto parts for sale and buying one to replace your old auto part means that both the environment and your pocket will thank you. And if you are able to wade through the huge array of choices available to you at junkyards today, and end up finding a good used auto part, it will function as perfectly as a brand-new auto part at a fraction of the price. Using affordable salvage auto parts should be the way forward as it will help in the goal towards sustainability while still being a cost-effective practice.
Additionally, salvage yards are also making a good difference to vehicle recycling by producing auto parts from recycled steel from wrecked automobiles, which can subsequently be utilized to rebuild your vehicle. Recently, a greater number of vehicles have been totaled in salvage yards around the country, and the residual metal, which is primarily steel and aluminum, has been shredded and melted down to make recycled auto parts. This contributes to the development of a circular economy, in which we maintain resources available in the supply chain by recycling and reusing them while still satisfying rising demand. This method ensures the car industry's long-term viability while simultaneously meeting the growing demand of the people. To know more about the importance of vehicle recycling check out this and this.